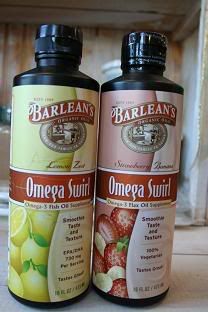 Barleans new products include Barlean's Omega Swirl line. This line includes their Lemon Zest Omega-3 Fish Oil Supplement as well as their Strawberry Banana Omega-3 Flax Oil Supplement.

Excellent taste!

Samples available at the store.

Presenting Carribbean Solutions
A wonderful selection to your summertime needs!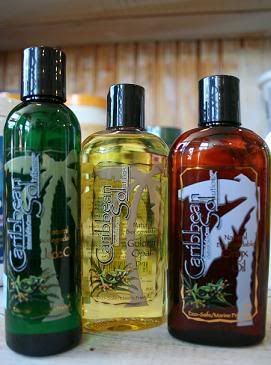 Jade Natural Tanning Oil
Natural Jade Tanning Oil is a pure blend of organic and natural oils along with tropical plant extracts that provides minimal protection from the sun, allowing you to obtain a darker tan.Pure Natural Ingredients: Grapeseed Oil;Passion Fruit Oil; Pot Marigold; Sunflower Oil; Vitamin E
Golden Opal Dry Natural Tanning Oil
Just as the Jade Oil, Golden Opal Cryb Natural Tanning Oil is a unique blend of Natural oils that leave your skin feeling dry, yet lubricated. The combination of natural oils such as Apricot Oil, Beta Carotene, Carrot Oil extract, Rose Hips Oil, plus several other Tropical Plant extracts nourish the skin tissue. Sufferers of psoriasis, and several dry skin disorders, have found this natural oil to be effective and relieving after use on the problem areas as well.
Onyx Natural Tanning Oil
Known for it's rejuvenating abilities, Onyx Natural Tanning Oil contains one such oil, Squalene, a rare virgin olive oil from Sicily, repairs and re-nourishes your skin. The deep penetrating capabilities of this natural oil restore elasticity and youthful texture to your skin.
Natural Sunscreen
The Natural blend of skin conditioning Hydrators and Broad Spectrum sunscreen affords you the safest protection while keeping moisture in the skin tissure replenished. We carry SPF4, SPF8, SPF15, as well as the Sol Kid Kare SPF 25. The Natural Sol Kid Kare is a formulated blend of protectors and skin conditioners for young sensitive skin. The natural sunscreens in Sol Kid Kare afford maximum protection for young skin without the discomfort and irritation often experienced using chemical/toxin based sunscreens.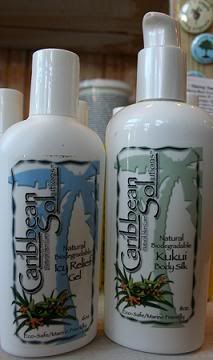 Icy Relief Gel is a natural way to soothe skin discomfort. The ingredients work swiftly to soothe the discomfort from burns, abrasions, cuts, and insect bites. Icy Relief Gel also helps soothe the irritation caused from shaving and waxing.
Natural Kukui Body Silk consists of Orangic Aloe Vera, Kukui Pod Oil, Rosehips Oil, and Italian squalene, along with other rich tropical ingredients shown to replenish your skin with the moisture it needs to remain youthful and healthy. Drying elements, such as the sun and wind, chlorine and salt, dry heat from furnaces, and dry air from air conditioners cause the skin to age due to dehydration. Body Silk heals the red fever and begins the tanning process immediately.